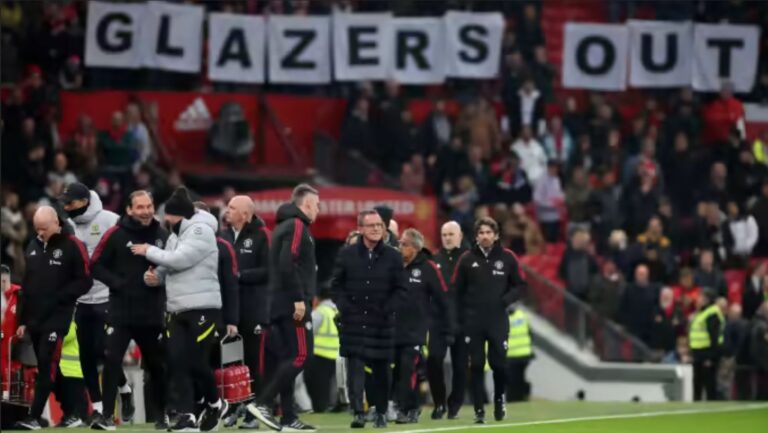 Not long after the turn of the Millennium, just when Manchester United were dominating the Premier League, winning titles on the trot after decades in the doldrums, an American investor called Joel Glazer borrowed hundreds of millions to purchase the club. He used United to leverage the loan and burdened the club with the debt. Where before United was a profitable outfit, its profits went solely into servicing the interest on the debt. For many Manchester United fans, there were many good reasons to sing songs about killing Joel Glazer and Baz sang the loudest.
"He can say all he wants about loyalty and spend a token fifty mil on Gazmero, but Glazer's not red." Baz carefully folded the newspaper and slid it across the table to Chunk. "Read it yourself."
"You bein' fucken funny?"
"You can read, you're too lazy."
Baz leaned back and analysed Chunk's face for a sign he might crack. He usually lost it whenever the subject of his illiteracy came up. But the big man-child was stone faced; the same emotionless expression that had drawn Baz's attention that day on the terraces. United had lost 4-0 away to a glorified Championship team in Brentford, and the fury that had filled the terraces with a murderous song exploded once more with the chorus of "He's gotta die, he's gotta, Joel Glazer's gotta die. How we kill him I don't know. Cut him up from head to toe. All I know is Glazer's gotta die."
Baz had been on the terraces for every one of the fourteen games at the end of the 2021-22 season that saw united win jus three times and lose seven, leaving them to finish sixth place in the league. The situation at the club was becoming dire due to lack of proper investment in quality players, scouting and infrastructure; the ground was rusting and the roof was leaking, turning the bland pasties sold at Old Trafford into mush every weekend.
Baz raised aloft his flag that day that said 'Enough is Enough. Something Has to Give,' and set eyes on the stone faced giant man-child who turned towards him, ominously pale in contrast to the reddened expressions twisted with rage all around him. Baz knew their futures would intersect. Those piercing baby blue eyes looking back reminded him of when he was a boy. When he and the little gang, that he still hung around with today, used to run wild down by the river . There was the schizo kid who died. He remembered how they'd break stuff to fill a grey day. The schizo kid wasn't supposed to be outside, he was supposed to be on his meds and doing a jigsaw on his old dear's kitchen table or something. Instead, he faked taking the anti-psyche drugs. This left him a bit mental and the first to smash a window or happy slap a student. The kid would do anything to quieten his head, and Baz learned that schizophrenics weren't scary but vulnerable. As Baz stood on the terrace, switching his gaze between the scoreboard painfully reminding him how bad it had gotten at United and back to the giant's lost blue eyes, he had an idea.
With waves of stewards filled the terraces in their luminous orange three quarter-length jackets, they began boxing-in the away fans, keeping them in a corner of the stadium until the home fans left. Baz took the opportunity to go speak to the baby-faced giant. He handed his homemade flag to one of the lads he'd caught the train to Brentford with and shimmied past the heated swarm. Something stopped him in his tracks and he waited on the stairs that seperated the seating sections. Staring forwards now, towards the floodlit pitch filled with groundsmen flattening divots and punching holes in the grass, the giant sang a chant about Glazer with such calm intensity Baz feared approach him. Almost as if he had sensed his fear, the giant turned and smiled a boyish smile, yet his eyes remained as dead still as the rest of his body.
Baz sang loudly as the away fans filtered out of the stadium, "He's gotta die. He's gotta die. Joel Glazer's gotta die," and inched into the section next to the giant towering over him.
"Shit game," said Baz, mirroring his glassy gaze outwards towards the pitch. Baz's shoulder met at his elbow as he looked up. "We're a shit mid-table club now, huh?" He cleared his throat when he didn't answer and raised his voice in song. The giant muttered the chant out of key.
Baz was transfixed by his stare, "You here alone, mate?", and was unmoved when he didn't respond, "I don't know why I come anymore. You from Moss Side?"
"Yeah," said the lad, in a deep monotone voice.
"Never seen you at any of the games before."
"Never been before."
"You're a United supporter thought, yeah?"
"Fuck off, course I am," he said, unemotionally.
"Cos you aren't wearing any colours."
The lad unzipped his charcoal Pakka jacket to reveal a 1999 United jersey.
"Classic," said Baz, noticing a twitch in his almost round eyes. "Do you have a name?"
"Callum."
"Sound Cal. So, you came alone, yeah?"
"Yeah."
"No mates?"
"Nah."
"Sorry to hear that."
"I'm fine."
"Want some mates, do ye?"
He shrugged. "Nah."
Baz laughed. "Nah?"
"Nah."
"How come?"
"Just don't."
"Everyone needs mates."
"I'm fine."
Baz noticed the lad's shoulders tense and his fingers twitching. "Ah mate, you're breakin' me heart, everyone needs mates."
Callum sighed but remained stoically focused on the pitch.
"A few of the lads are gonna have a few tinnies on the train back, wanna join us?"
"Nah."
"Come on, Cal, it'll be sound." He reached up and put a hand on his shoulder. Callum flinched. Baz smiled and waited for him to relax. "Come on, yeah, you can't endure this result alone, let's go."
"Alright," he said, and followed him out of Old Trafford.
Baz found his flag in the crowd and introduced Callum to his mates. "Boys, meet Cal. First game so be nice." The nineteen-strong group of boys and men took turns to meet the giant with the classic 1999 jersey as they walked to the train station, flanked by snorting, clopping police horses and their sinister-looking, baton-wielding riders. With green and yellow smoke bombs filling the air with a pleasingly acerbic smell, the enormous flags were waved in vast numbers and the murder Glazer song rung out in waves, rousing with fury and then more softly, but always unyielding.
Baz analysed Callum who had yet to raise his voice above a murmur. "Sing up, mate…. he's gotta die, Joel Glazer's gotta die," he sang.
Callum smiled and joined in.
"He's carving up our club."
Callum glanced sideways, twitching and galncing around. "Yeah."
"Seriously."
"Yeah."
Callum's lack of emotion stopped Baz in his track "Here?"
He waited and half-turned. "Something wrong?"
"Sorry, mate, hope you don't mind me saying but is there something wrong with you?"
"I—I take medication, I have schizophrenia."
"Ah, had a feelin', mate." Baz half-grinned. "You know, those meds don't help, they only make you worse. I had a mate with the same condition and he was a lot better off them." He trotted up beside him and they continued on, raising fists and chanting.
"How long are you on the meds?" asked Baz, as they turned towards the station.
"Half me life." Callum's stride was short for someone with legs so long, which made him appear sheepish.
"Looks like it. How old are ye, mate?"
"Twenty-four, been on then since I was twelve."
"Maybe you're better now."
"Nah."
"Hear voices do ye?"
"Yeah."
"What do they say?"
His shoulders tensed. "Mad shit."
"Murderous shit?"
"Sometimes, yeah."
"It's probably the voices of all the cunts in the world, yeah? I hear that shit too, believe me. You don't see me droolin' like a two-year old on the terraces. I wouldn't take em meself, all ye need is mates."
"I have to take them."
"Yeah, sound."
On the train, Baz made sure Callum was sat by the window, boxed in by himself and two big lads he'd known for years. He watched out of the side of his eyes as hundreds of fans packed the carriages going through the rendition of five main anti-Glazer songs and the typical pro-United ones.
"Have a fucken beer, mate, come on," said Baz, cracking open a can for Callum and pulling open his fat fingers and forcing it into his hand. "Up you get," he said, lifting the can towards his freakishly wide and fatty jaw and babyish mouth.
Callum grinned and sipped the beer.
"Sing up, mate," said Baz.
Callum sang more prouder as he drank the can and louder as he supped the second. His eyes darted about with excitement, and Baz realised the meds were wearing off. At the three-quarter way point of the journey, Callum began folding his long leg up onto the seat.
Baz chuckled. "What ye doin', mate?"
Callum smirked and hauled himself onto the table, his long body bent in half by the roof, and he began bouncing. His enormity quietened the carriage for a moment, drawing gawks, and then a cacophonous cheer followed and another murderous chant. Callum's excitement at being centre of attention made him jump violently up and down. The crack silenced nearby fans as the table snapped in two, sending Callum crashing to the floor, ending calmly standing, holding aloft his can. The laughter and cheers were deafening. Beer sprayed throughout the carriage, and a chant started at the back that filtered forwards, "Chunk, Chunk, Chunk, Chunk, Chunk…"
When the train stopped at Manchester, Callum, now christened Chunk, was shirtless… Belly lolling over his jeans and flapping around as he danced like a pizza chef had mistaken him for dough, he threw his arm around Baz and said "Most people are cunts but yous are sound."
Baz told Chunk they were meeting the next day in the Dog and Dunk in Moss Side and invited him along. Before they parted for the night, he insisted he not come if he takes his meds, which Chunk agreed to.
When Baz saw Chunk through the pub window swaggering down the road, causing women to cross the street and old men to cower as he passed, an idea came to him. Back when they used to wreck shit down by the river, the schizo kid had moments where he heard voices but it only seemed to happen when they weren't running wild, mostly when they kicked about the forest looking for something to do. He'd need to get Chunk alone, take him somewhere where silences whispered.
Baz polished off his pint, told the lads he'd see them later and intercepted Chunk before he entered the pub. "Alright Cal lad, this way," he said, zipping up his Pakka as he turned into a graffiti-covered, piss-drenched laneway that ran between the pub and a canal. It led to a bit of wasteland.
Chunk followed without a word. Baz was more subdued than he'd been the night before which brought Chunk's shoulders up to his ears. "You're sound, mate, Not far," said Baz.
"Where are we goin'?"
"I need a toke."
"Sound."
Baz ducked into a hole in a chain-link fence. Chunk got stuck and Baz used his legs to widen the gap. As Chunk stood again, groaning with the strain of his colossal weight on his knees, he thanked Baz for being a mate and helping him.
"Just over here, mate," said Baz, and led him through some bushes. They entered a clearing with fallen trees that vaguely resembled an urban sort of campsite, lit by refracted light from street lights and the glow several surrounding high-rises. Baz kicked away used drug needles and beer cans and made a nice spot for Chunk to sit. As Chunk sat, Baz lit a joint and handed it to him. He took it and had a few drags.
"Smoke do ye?" asked Baz.
Chunk chuckled and gazed into his eyes innocently. "No."
"Sound. Smoke away, there's plenty more where that came from."
"Thanks."
Baz sighed and scraped lines in the dirt with his new Addidas Samba 90's. Chunk waited expectantly for him to speak. The quiet was pierced by the primal scream of kids carried on the wind and car alarms, then police sirens and the furious chants from the Dog and Duck, house alarms, more shouts and screams all around. All around Chunk's vulnerable head.
It occurred to Baz that this place was a lot less silent than down by the river. He continued to draw in the dirt with his trainers, telling Chunk to smoke as much of the joint as he wanted and not to worry about him as he was stoned already. With a mutter, Baz began to sing, "He's gotta die, he's gotta die, Joel Glazer's gotta die…"
Chunk chuckled and joined in. "How we kill him I don't know. Cut him up from head to toe. All I know is Glazer's gotta die."
When they had exhausted their frustration, Baz went quiet again. After a spell, Chunk finished the joint and said his head was buzzing. Baz said, "I imagine that cunt every night with is grubby hands in our club. It's people like him that causes all this shit," he said, kicking a bent hypodermic needle away from Chunk's foot. "He's stolen the sole from this city, the buzz, ye know? It's like the fucken devil has taken over, mate, yeah?"
"Yeah."
"I actually heard he is the head of a satanic cult?"
"No shit."
"Yeah, mate. They conjure up Beelzebub every night. Wear them big horns and everything," he said, forming horns on his head with his fingers. "They dress in black capes, and I heard they even sacrifice little kids."
"Kids?"
"Yeah mate?"
"No fucken way?"
Baz took advantage of the quiet that fell to let images sink into the vulnerable giant's mind. Being a hardener weed head since thirteen, Baz knew how the drug heightened whatever thought entered the smoker's mind. What was going on inside the schizophrenic he could only imagine, but given the haunted look on Chunk's face it wasn't good. "They have a chant an everything." Given Baz had made up several football chants on the terrace on the spot, he backed himself to come up with one now. "Yeah, it's eh… what was it again? Hail Satan…eh, spill of blood, mercy mercy… eh bellows good. Die crying, live and laugh, hail Satan… may his reign ever last."
Chunk was silent.
"You alright, mate?" asked Baz.
"Not sure." Chunk put his head in his hands. "Argh." He stood and stumbled about.
"Glazer's gotta die. He's a sick cunt. Someone needs to do him in, yeah."
"Yesh."
"He's the voice you're hearin', Cal. We should cut him up… from head to toe, yeah?"
"Argh."
"We should do him in, mate. Me and you."
"Argh."
"Yeah?"
"Yeah."
"Yeah?"
"YEAH, mate, yeah."
"Sound. Here, smoke some more," said Baz, pulling a joint from his pocket and lighting it.
Chunk took it and sat.
When he was calm, Baz sat next to him. "Feelin' better?"
"Sort of."
"What do you think about really doin' it… for the club.. and the city?"
"Not sure?"
"His kind cause your voices, you know that, don't you?"
"No."
"Look, I was thinkin', we catch a train down to London, I know where his gaff is. We stalk the place first, obviously. I'll keep watch and you do him in."
"Me?"
"One of us need to watch in case dibble turns up."
"Yeah, suppose."
"Show some fucken' enthusiasm, Chunk, you want the voices to stop don't ye?"
"Yeah, mate, fucken yeah."
That night, it had rained all day and the ground was soggy where Chunk and Baz chose to watch Joel Glazer's house. Baz went off and came back with plastics bags on his feet and two for Chunk. "Put them on, in case dibble casts the foot prints."
"With this rain, won't they wash away?"
"Not as thick as you lock." Baz took out his phone and pulled up a schematic. "I got a photo of the security system earlier and sent it to one of the lads. Johno is a wiz at all this shit. So, I can fry the system but you'll need to be quiet."
"I can do that."
"You sure?"
"Me mam won't let me leave the house but I always sneak out."
"Sound. Tell me again how you're gonna do him."
Chunk pulled out a barber's razor and waved it about with glee. "Slice him head to toe," he said, with a drunken laugh.
"Make sure he's fucken dead, yeah?"
"Yeah."
"How are the voices?"
"Quiet enough."
"Sound. Once he's gone you'll be all better, yeah?" Baz dropped his head and dropped his voice in tone. "Don't worry about the prints but take off your shoes before you enter, okay Cal?"
"Yep."
At 4:44 A.M. the Primrose Hill mansion was deathly quiet. Chunk crept through the stately garden towards a patio door. With the power cut and the security system down, the doors automatically unlocked—a safety precaution to prevent the inhabitants becoming trapped inside. Chunk kicked off his shoes, neatly placed them outside and entered.
The wheeze of a nose held Chunk's attention as he crept through the kitchen. He stopped in the hallway, watching the silhouette of a chest rise and fall on a couch in the living room. Sure the guard was in a deep sleep, he crept upstairs to a long hallway. The light from a TV brought him to a door at the end where he waited to settle his weezing before turning the knob. The door was locked.
Chunk's heart sank for a moment before he had a strangely clear thought: maybe the rooms were adjoining. He went to the next room took the knob. It opened! His heart filled with excitement and he saw what he'd hoped for.
Do it, he heard a deep, menacing voice command.
He froze as he entered the room and saw Glazer asleep, his face lit by a silent TV; deep in thought, clear thought: If I'm hearing Glazer's voice, why would he tell me to kill him?
Kill him. Cut him up, he heard the voice command.
Chunk backed away and crept down the stairs and returned to Baz.
"Is it done?" asked Baz, amped up, peeking from behind a bush.
"It's not him?"
"He wasn't there?"
"He was. The voice isn't him."
"You fucktard, Chunk."
"It's not him!"
Baz paced the garden, staring at the open door. "He's there though, yeah?"
"He's upstairs asleep."
"You're sure?"
"It's him. But it's not his voice I hear."
"Fuck your fucken voice, mate. Gimme that," he said, snatching the knife. "What room?"
"End of the hall."
"If you want something done you have to fucken do it yourself."
Baz crept upstairs and found Glazer  wearing an eye mask and earbuds, snoring and wheezing away. Close to two decades of pain bubbled up, stopping him chickening out, and he stood over the money-grabbing old hack. He stared down at the razor, lifted it, kissed it and put it to Glazer's throat.  He thought of the future of his beloved club, the only thing he and millions of others had in their lives, and he cut Glazer. To send a message to anyone else considering buying United and taking dividends, he cut him from head to toe. Before he left, he wrote on the wall in blood 'Glazer, you're Red now'.